Uncompromising Quality
Hobbed Gears — no other method provides the accuracy and repeatability of hobbing.
Precision Ground Worms – efficiency and dependability are increased by precise, skilled craftsmanship, and superior quality control.
Conservative Bearing Ratings – Bearing ratings exceed industry standards increasing durability.
Generously Proportioned Shafts – Increased shaft diameter provides accurate and reliable support.
Heavy Duty Housings – Rigid housings protect gear sets under load, increasing longevity.
Many Models Available – click to see our available models.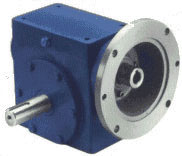 Modular Speed Reducers
Center distances from 1.35″ to 5.25″
Single reduction from 5:1 to
100:1 — up to 16 hp; up to 4608 in-lbs ouput torque
Double reduction from 38:1 to 3600:1
Guaranteed Flexibility