Enclosed Drives
Our pre-engineered worm drives offer the broadest range of size, configurations and output torques in the industry.
The Modular "M" Series (1.33" – 4.25"CD) and the newly redesigned Millennium Series (5" – 12" CD) drives continue
Cleveland Gear's tradition of rugged reliability established with its "AF & RF" Series (3" – 36" CD) drives.
Helical Enclosed Drive Products
Open Gearing
Harness The Advantages of Open Gearing
The many advantages of open worm gearing – such as its proven reliability, compactness for higher single reduction ratios, and the ability to withstand high momentary overloads – continue to make it attractive to machine designers as a means for power transmission. Worm gears provide large reduction ratios, low noise and vibration levels, and uniform angular velocity. The many advantages of open worm gearing – such as its proven reliability, compactness for higher single reduction ratios, and the ability to withstand high momentary overloads – continue to make it attractive to machine designers as a means for power transmission. Worm gears provide large reduction ratios, low noise and vibration levels, and uniform angular velocity.
Because worm gearing is so reliable and able to withstand repeated dynamic shock loading, it is ideal for applications in multiple industries. From steel and aluminum mills to paper mills, oil, lumber, and material handling, you'll find Cleveland Gear open gearing on mixers, fans, conveyors, cranes, pulverizers, industrial truck axels, and pumps…the list goes on.
Click here to go to our Standard Worm Gear Sets catalog for more information and specifications for well over 1,500 stock gear hobs. We offer the broadest range of worm gearing (3" to 54" CD) in the industry. If we don't have the hob you need in stock, we'll design and produce a custom hob in our facility. Our recess action hob designs and tangentially fed hobbing processes optimize the efficiency and power transmission of the gearset.
Designed for Quality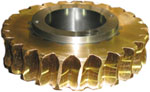 Master Worm System – When a new gearset is introduced, Cleveland Gear designs and produces a master worm to match the hob form as well as worm thread plug gauge. This allows for future repeatability of the gear tooth geometry and worm thread form. Thus customers can replace a worm or worm gear individually, with high confidence that the "as initially produced" gear tooth form and contact is repeated for the replacement worm or gear.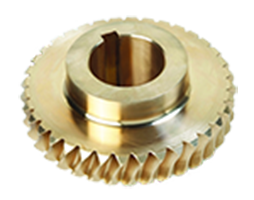 Standardized Centrifugally Cast Bronze – Our engineers select the exact bronze alloy for our worm gears based on the application's operational requirements. This ensures the most reliable gearset for the application is produced. Cleveland Gear also produces gears from customer specified materials, such as ductile iron, to meet the precise needs of their applications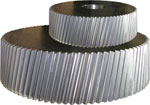 Case Hardening – We select the proper steel alloy and heat treatment when the worms are to be case hardened. Cleveland Gear's standard case hardening process is flame hardening. Other thru hardening or case hardening processes are available upon request. All of our worm threads are precision ground and subjected to non-destructive testing prior to shipment.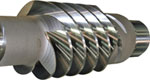 Expanded Gear Production Capabilities – Cleveland Gear recently expanded its hobbing capabilities with the addition of three CNC gear hobbers. This expansion Increases our production capability of spur and helical gearing. Our most recent addition a 2.4 meter CNC gear hobber can produce high quality thru hardened and hobbed spur or helical gearing along with our largest worm gearing
High Quality Custom Drives
Cleveland Gear designs high quality custom enclosed drives and dimensional replacement gear drives for a wide variety of industrial applications. Leveraging our comprehensive design capabilities and decades of experience, we have produced drives with the following features:
Single and multiple speed drives in single to quadruple reductions
Helical, bevel, spur, planetary or worm gear designs
From 10 to 10,000 horsepower
Up to 7.5 Million inch pounds of output torque
Through hardened or case hardened and ground helical gearing rated to AGMA 6013-A06
Dimensional replacements for existing drives – Horizontal or vertically offset designs
We have designed and produced custom gear drives for industries as varied as:
Steel production and processing
Rubber production
Mineral processing
Movable bridges
Material handling
Overhead cranes
Cleveland Gear Custom Enclosed Drives feature:
Anti-friction rolling element bearings selected to provide specified L-10 life and accept an application's external loads
Heavy duty fabricated steel housing with internal bearing support pedestals where necessary
Lubrication systems: internal splash lubrication or shaft/motor driven pump systems; air/oil or water/oil heat exchangers where required; oil filters; teleflow indicators; sight feed oilers when specified
Our Dimensionally Interchangeable Replacement Drives feature:
Designs to meet all critical mounting dimensions of existing drives
Redesigned gearing to provide additional power transmission capability
Revised gear ratios to accommodate new process requirements
Redesigned bearing arrangements to provide equal or higher life expectancy at the higher power ratings and speeds
Field Service & Rebuilds
Cleveland Gear Refurbishments – As Good as the Original
The reliability of our enclosed drives often results in 40 to 50 years of uninterrupted service. When a drive finally requires refurbishment or replacement, many of our customers prefer to refurbish these drives rather than replace them. Cleveland Gear's historical database provides us with the information necessary to know what parts were used in the original drive. We can ensure that the replacement parts are produced to the original design specifications. Our "Master Worm System" and extensive hob inventory enable us to manufacture a worm and gearset "as initially produced" for your originally installed gear drive. You get a "same as new" gear drive for 20 to 30 percent less cost than an equivalent replacement. To accommodate your schedule and needs, we offer both in the field and in the factory refurbishments..
Gear Drive Refurbishments
In addition to refurbishing Cleveland Gear Drives, we offer refurbishment of all types of gear drives that were originally produced by other manufacturers. These refurbishments include a complete disassembly of the drive, extensive inspection of the existing components, a report of the work required for refurbishment, reverse engineering where necessary for replacement, production, or procurement of the required components and reassembly to the original configuration.
It may also be possible to upgrade the design and components to meet new operating conditions while maintaining the existing drive's outline dimensions.
Cleveland Gear's Process for Drive Refurbishment Service includes:
• Complete disassembly, cleaning, and inspection to identify damaged and reusable components.
• Presentation of refurbishment proposal for acceptance and approval to proceed with the work.
• Verification of dimensions, drawing preparation, and production or procurement of components.
• Reassembly, no load spin test to check for unusual noises or vibrations and repainting,
Field Service Inspection and Assembly Assistance
Cleveland Gear also has a comprehensive family of Service Programs that can be tailored to your requirements. Ask us about what's included in our field inspection, preventative maintenance, repair/replacement, and general service programs.