Millenium Gear Drives
Bronze Gear Rims 

PCentrifugally cast to ensure increased resistance to wear and fatigue pitting for maximum efficiency.
Fusion Cast composite gear/hub designs

Flame Hardened Worms 

Provide maximum thread strength and resistance to wear without sacrificing advantages of a medium hard.
Precision ground threads to optimize power transmission capability.

Rugged Housings 

Quality cast iron provides maximum strength and heat dissipation while maintaining accurate gear alignment.
Fabricated Steel where require to meet operational requirements.

Large Gear Shaft Diameters

Designed to withstand higher torsional and overhung loads.

Generously Sized Bearings

Provide greater rigidity to accomodate radial, thrust, and overhung trails.
Millenium Worm Gear Speed Reducers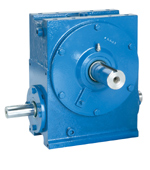 Center Distances from 5″ to 12″
Ratio from 5:1 to 60:1
Input Horsepower from 3.4-211 HP.
Output Torque from 5,500 – 158,000 in-lb

Available in solid and hollow output shaft arrangements

Horizontal and Vertical mounting Feet available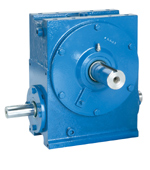 Millenium Gear Drives
Basic Units Available for Quick Delivery

Type 11 & 15 – Solid Output Shafts

Type 12 & 16 – Hollowoutput shafts
Compact with Universal Mount